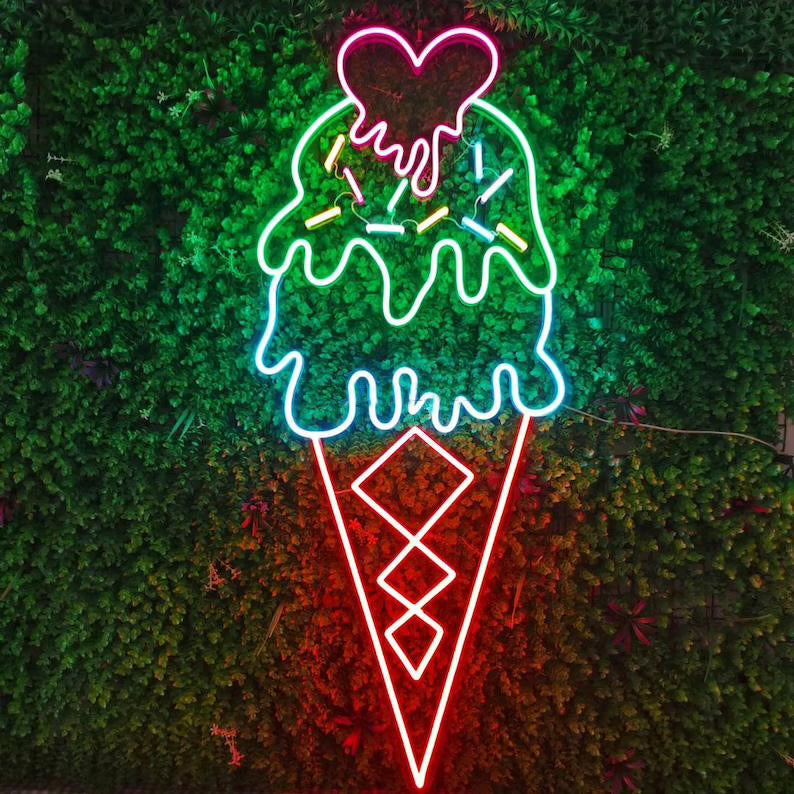 Sale price
$219.00
Regular price
Description
Shipping
Material
Ice Cream - LED Neon Sign is perfect for a kid's play area, ice scream store, basement, gift or fun decor for the home/kitchen. Show off your personality and enlighten your home with this handmade and unique neon artwork

Brand:YNeon
Size : 15"W,20"W
*The width and height of neon signs shown here are indicative only. Please take the actual neon sign as the standard.
Color: Colorful
Backing type: cut to shape
Location:Indoor

Shipping options: 
- Free Standard shipping for usa. Get it in 2 weeks.
- Express Shipping + Add $100 Get it in 7-10 business days.
Shop with confidence:
We want you to be 100% satisfied with your purchase. Items can be returned or exchanged within 30 days of delivery.
Each sign is made of a neon flex material, consisting of PVC or Silicon piping with LED lights, that is mounted on a recycled acrylic board. These materials allow us to create realistic neon signs, with bright lights and intense color, while being more durable, affordable, and sustainable than traditional neon.

We take sustainability seriously, which is why we use:
- LED lights: consuming 6 times less energy than traditional lights, they last up to 80,000 hours.
- recycled materials in our products
- and 100% recycled packaging, including removing all useless plastic. 
Quick response
I highly highly recommended purchasing with this seller! Such a quick response time and very helpful. I purchased a neon sign for my wedding and shipping was so fast and it was packaged so well! It came in a wooden box and it had several screws to keep it closed. Could not be any more happy and I can't wait to use this on my wedding day! Thank you so much!!
Perfect for our wedding
The seller was great aboutanswering any and allquestions- love how it cameout! Perfect for our wedding,and now we have it sittingabove our record player. Theremote is a great feature! Welove it, and it looked great inpictures (which is always aplus!)
Beautiful product
The sign I ordered from herewas fabulous!! Everyone at theparty asked where Ihadgotten itl! So happy with thispurchae...beautiful product,on time delivery and the sellerwas great to work with!
Absolutely beautiful!
Absolutely beautiful! greatcustomer service and cannotwait to use our sign for ourspecial day!! I am Obsessedwith how gorgeous this is.Came back to add to myreview! The sign wasabsolutely stunning and justmade our wedding vibesperfect. We received so manycompliments. I am just sooverjoyed with how gorgeousit was. It created the vibe ofour small elegant Cannabiswedding.
Love love love!
Love love love! Everyone elseloved it too! Now we're trying tofigure out where to hang it inour home lol I got the largestsize! Fast shipping and greatcommunication!!
Easy plug & play installation
Your custom LED neon sign is like a beautiful painting, but even easier to hang.You have 3 options, Mount it to the wall, Hang it from the ceiling, Use 3M stripes If you have any questions, please contact us in time. mailto:service@yneon.com
How To Install Neon Signs
#YNeon
Tag @YNeon in your Instagram for a chance to be featured here.
Find more inspiration on our Instagram.
Follow us on instagram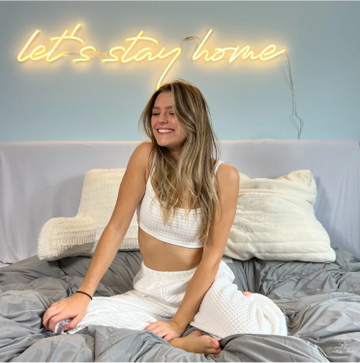 FAQS
HOW DO I HANG MY PIECE?
HOW WILL MY NEON LOOK IN REAL LIFE?
Sometimes it is hard to imagine what your neon sign will look like in real life. Or perhaps you're not sure which color you'd like for your custom LED neon sign, you can't decide which will look best in your space. Don't worry, you can directly send us email: service@yneon.com, we will reply to you 24 hours within working days! And our designers will send you a mock up, so you can make sure your sign is exactly what you want!
WHAT DOES THE WARRANTY COVER?
We offer a 2-year warranty with all our LED neon signs
However, this does not extend to any damage that may occur as a result of incorrect installation or physical damage during usage.
CAN I HANG MY PIECE OUTSIDE?
Yes, we make outdoor signs! If you're looking to hang your sign outdoors, let us know! We'll make your sign look slightly different, so it is safe to use outdoors and supplied with a special power supply.
YNeon DESIGN SERVICE
We are happy to offer a free design service to our customers, providing one or more designs for your approval, at no extra charge. If you need to design a unique neon sign, please feel free to contact us.